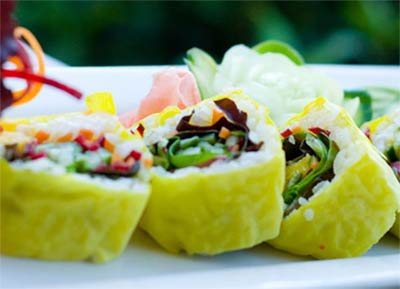 Truly good sushi makes the world a brighter place. Just thinking about a slice of tuna wrapped in sticky rice and topped with avocado and spicy mayo makes my day a little bit better. With fresh ingredients, a fun and relaxed atmosphere and the best outdoor patio in Mount Pleasant, Jerry Zi Yi Lin, the new owner and manager of Bambu Asian Bistro, is determined to bring this kind of joy to everyone who walks through the door.
Though Bambu Asian Bistro's décor has not changed much since last January's change of ownership, the food and the atmosphere are quite different.
"We have really tried to bring traditional Japanese sushi to Mount Pleasant, but we have also added some Chinese and Thai dishes to the menu that we are really proud of," Lin said with a grin as he dropped off a plate filled with spicy truffled edamame and fried oysters.
As the restaurant's new sushi chef, Rich Chen prides himself on providing fresh ingredients and a unique dining experience. With eight years of experience making sushi in New York City, Chen is excited to bring his creativity and passion to Mount Pleasant. His extensive menu features the scam roll, filled with a crab salad known as kani and topped with avocado and huge chunks of shrimp, and the Mount Pleasant roll, stuffed with tempura lobster, tuna and spicy Sriracha.
Besides having a new owner and a chef, Bambu Asian Bistro has new hours. It's now open for lunch every day between 11:30 a.m. and 3 p.m. and offers happy hour specials from 4 p.m. to 7 p.m. There's live music on the patio every Thursday, Friday and Saturday. The spacious, shaded outdoor terrace is the perfect place to soak in all the perfection of summer. You can enjoy a quiet lunch in the sunshine or a lively dinner listening to local musicians, or you can just kick back and sip one of bartender Benjamin Zorn's many house-infused liquor cocktails.
Whether you are looking for some of the best sushi in town or a relaxing drink in the cool afternoon breeze, the new Bambu offers fresh, delicious food and a friendly, inviting atmosphere.
Bambu is located at 604 Coleman Blvd. in Mount Pleasant, in the Moultrie Plaza Shopping Center. To learn more, visit www.bambuasiansushi.com or call (843) 284-8229.