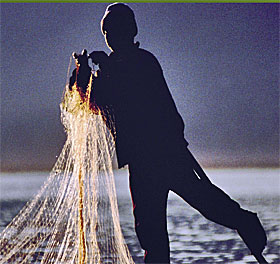 If you could design the perfect spot to settle down and enjoy life, it would look a lot like McClellanville.
Just off Highway 17, about midway between Myrtle Beach and Charleston, McClellanville is a tiny fishing village on the banks of Jeremy Creek. Residents live in a mix of modern homes and old-fashioned two-story houses with welcoming porches.
Though it is small, it is a town with a big heart. Together, the townspeople survived the terrible wrath of Hurricane Hugo in 1989, then rebuilt the homes and businesses that were blown away. Today, local residents welcome newcomers who seek the peace and serenity of small-town living along with the convenience of residing just a short distance from major metropolitan areas.
It takes just a few minutes to drive around McClellanville, but, once you do, you'll want to become a permanent part of this vital community. Be sure to stop at the business district, in the heart of the village, where you'll find eclectic boutiques offering clothing, gifts and pottery. For fresh seafood, have a seat a TW Graham & Co., where the locals meet to eat and catch up on the news. The Crabpot Restaurant, on Highway 17, is another favorite stop for residents and hungry travelers.
Lest you think there's not much to do beyond a daily walk, The McClellanville Arts Council might change your mind. A non-profit chartered in 1977, the group is dedicated to enhancing culture in their corner of Charleston County. For three decades, the Arts Council has presented hundreds of events and programs, ranging from book signings to batik classes to African dance classes. In 1997, Gov. David Beasley and the South Carolina Arts Council honored the McClellanville Arts Council with the Elizabeth O'Neill Verner Award.
The Village Museum, also downtown, presents McClellanville's history, from the rice plantations along the Santee Delta through today's seafood industry.
Surrounded by the Cape Romain Wildlife Refuge, the Francis Marion National Forest and the Santee Coastal Reserve, the small fishing village of McClellanville is the perfect refuge from the outside world.